January 31, 2023
Together, our Pasonites are creating, building, and supporting drilling data solutions that revolutionize the energy industry. Our motto, Technology Deployed Simply is implemented through dedicated, creative employees who bring their passion to work developing cutting-edge software and hardware solutions.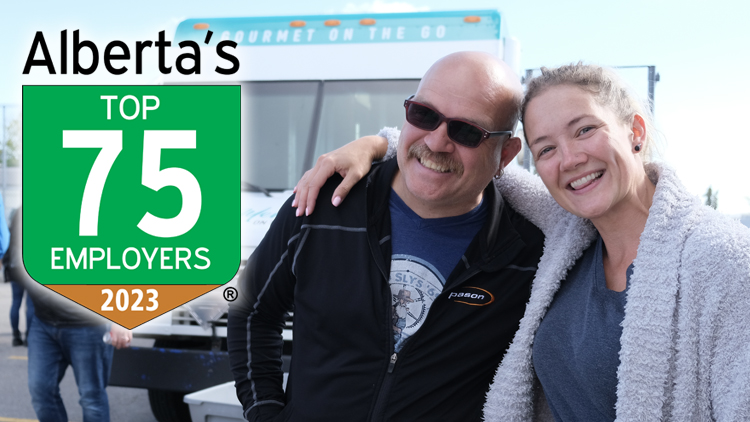 We're proud of our employees and want to foster an atmosphere where they can perform to their fullest potential. For this, we support our employees through hybrid work, mental health services, training opportunities and much more, so our Pasonites can work their best and be their best at work and in life.
That's why we are happy to be named one of Alberta's Top Employers for the fifth year in a row!
Alberta's Top Employers is an annual competition that recognizes Alberta-based companies that lead the way in offering exceptional places to work. Employers who apply for the award are compared to similar organizations within their industry, identifying the most progressive and forward-thinking programs.
Top Employers are determined through the following criteria:
Physical Workplace
Work & Social Atmosphere
Health, Financial & Family Benefits
Vacation & Time Off
Employee Communications
Performance Management
Training & Skills Development
Community Involvement
Over the last year, Pason has remained dedicated to employee mental and physical wellness. We've hosted soft skills classes and wellness workshops in addition to our extensive benefits package, including $1,500 per year for employees to use for psychological and social work services. Employees also have access to a one-page mental and physical wellness "cheat sheet," where they can visit a one-stop shop to see what supports are available to them in a quick and easy step.
We've continued to work in a hybrid, flexible work environment, allowing many of our employees in our corporate offices to balance work and life between home and the office. We're particularly excited to have been able to host in-person events for employees this year, including our Annual North American Operations Meetings and other events that define our culture.
"Pason's real strength is the people; I'm surrounded by hard workers who are remarkably easy to get along with," said Jeff, EDR Tier 3 Team Lead.
At Pason, we want to set our employees up for success and offer training opportunities, such as a Pason Information Session for new hires to learn about Pason and how we fit into the industry. Also, we have implemented a dedicated Field Technician training team and expanded our training program, specifically for our field employees.
"Being a Field Technician with Pason is not a job. It's a career," said Stephen, Manager, Field Support. "The more interest you provide in your career, the faster you succeed. Our Pason family is vast, and every member is always there to help you along the way."
Field Technician Colin said: "I am proud and honoured to be part of the Pason team and family."
In addition, because of inflation and the increase in basic living costs, Pason has recognized that basic expenses like fuel and food have increased for all employees. As a result, we made salary adjustments for employees in July 2022.
These are just a few items we're proud to offer our employees as a Top Employer.
We are highly honoured to have been recognized as a great workplace in the province by Alberta's Top Employers and Canada's Top 100 Employers for the fifth year!
A special magazine announcing the winners was placed in the Calgary Herald and Edmonton Journal newspapers and online. To see why Alberta's Top Employers selected us, visit our Reasons for Selection.
Use the links below to share this article on LinkedIn, Twitter, Facebook, or via email.