January 25, 2022
At Pason, we want our employees to have the freedom to work in an environment where they can bring their creativity to work – developing software and hardware solutions as a leader in drilling data and energy technology. Whether that's working in a hybrid environment at our Corporate Head Office or taking advantage of our mental health supports, we want to foster a culture where Pasonites can perform their best and be their best.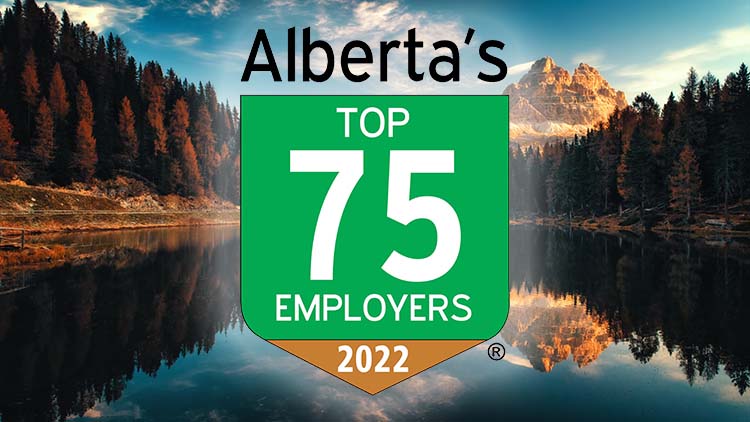 Having those supports in place helps our employees feel empowered to perform to their fullest potential in an open and friendly environment. As a result, we are happy to announce we've been selected as one of Alberta's Top Employers for the fourth year in a row!
"It's no shock to me that Pason has continued to win this award for four consecutive years," said Jenn, Pason Canada HR & Compensation Analyst. "I think all our employees would agree with me in saying that our biggest asset is our sense of culture and our people. Without our people, we wouldn't be Pason. All the measures that determine us to be a winner stem from the roots – which are our Pasonites."
Alberta's Top Employers is an annual competition that recognizes Alberta-based companies that lead the way in offering exceptional places to work. Employers who apply for the award are compared to similar organizations within their industry, recognizing the most progressive and forward-thinking programs.
Top Employers are determined through the following criteria:
Physical Workplace
Work & Social Atmosphere
Health, Financial & Family Benefits
Vacation & Time Off
Employee Communications
Performance Management
Training & Skills Development
Community Involvement
For Pason, we offer employees a few perks that we are particularly proud of, including mental health support, a competitive benefits package, and a hybrid work environment.
Pason takes a progressive approach to mental health support for our employees. Over the last two years, we've made a significant effort to offer the best mental wellness services.
"Within employees' benefits packages, they receive $1,500 per year, per dependent for psychological or social work services," Jenn said. "I love that Pason recognizes that these types of services are expensive, and having that carved out separately from all other paramedical expenses really allows employees to use the services they need."
In June 2021, we launched HeadSpace, a mindfulness app with an easy-to-use interface that takes the seriousness and intimidation out of meditation.
More than 100 employees have tried and actively use the app. In addition to providing meditation resources, the app also offers tools to address various issues to assist with one's mental wellness. These range from stress mitigation, helping with falling asleep and staying asleep, exercise, financial tools, and other activities geared towards children. This is all at no cost to our employees.
In our Canadian office specifically, Pasonites have access to telehealth where they and their dependents can access healthcare from the comfort of their own home.
"It's available around the clock, so it's nice if you have a child who's not feeling well in the middle of the night," Jenn said. "Instead of going to the clinic, you can log into telehealth and speak to a practitioner without all the extra hassle."
We have been getting used to working from home over the last two years. As a result, many of our employees in our corporate offices can work in a flexible, hybrid environment allowing the opportunity to split time between home and the office – one of our most prominent changes in the previous year.
"Pason sees the value of offering this on a continued basis for all positions eligible to work from home," Jenn said. "Pason has provided all employees with one work set up; however, has supplemented Canadian employees to expense up to $500 for a second at-home set up."
Having the opportunity to work from home gives employees the freedom to make the most of work-life balance. Whether it's tossing in a load of laundry, picking kids up from school, or avoiding the roads on a snowy day, the flexibility works for them.
Jenn added, "One thing Pason's leaders do so well is when they recognize employee needs, instead of sweeping concerns under the carpet, they make a decision to change it."
Thank you to Alberta's Top Employers and Canada's Top 100 Employers for the recognition as one of the best places to work in Alberta!
A special magazine announcing the winners was placed in the Calgary Herald and Edmonton Journal newspapers and online. To see why Alberta's Top Employers selected us, visit our Reasons for Selection.
Use the links below to share this article on LinkedIn, Twitter, Facebook, or via email.