November 6, 2018
Yet another Canstruction Challenge has come to an end.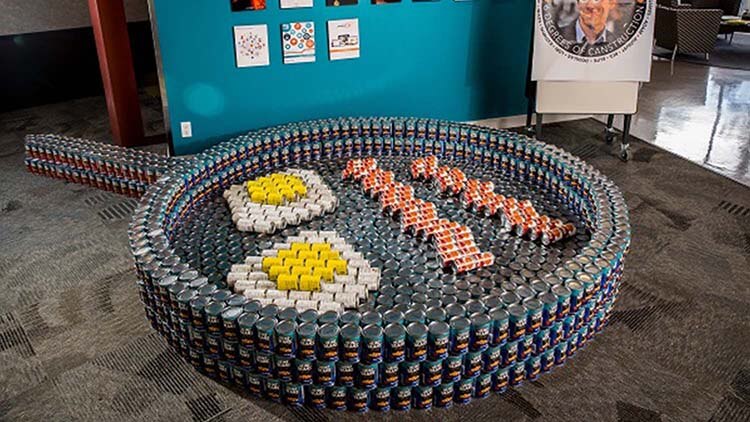 For the third year running, Pasonites displayed creativity, teamwork, and perseverance building structures made out of food cans and wowed the judges at this years' Canstruction Challenge.
Some can-structures celebrated Pason's 40th anniversary, some showcased well-known video game characters, and others displayed great feats of engineering, including a moving draw bridge and another with a working cannon.
The Canstruction Challenge is Pason's fundraising event for the Calgary Food Bank. Throughout the month, Pasonites create teams, brainstorm ideas, gather money, and buy caseloads of food cans, boxed food, and other in-need grocery items to build can-structures around the office.
"The level of engagement was so high this year," says Warehouse & Logistics Manager Jenny, organizer the event. "People had a lot of questions. I felt like participants really cared about their builds. They were in for the win!"
Although the spirit of competition was alive and well around the office, Jenny reminds us the true purpose of the event.
"We do this every year because it's for a good cause. We're supplying food for Calgarians in need. It's simply the right thing to do."
The can-structures surpassed expectations again this year as did the sheer volume of cans."
In total, we donated 2,973 kg (6,555 lbs) of food, approximately $920 cash, and $150 worth of gift cards," says Jenny. "The cash amount actually adds up to $4,600, thanks to the Calgary Food Bank's amazing buying power. For every $1 donated, they are able to turn into $5 worth of goods."
In comparison, in 2017 we donated 2631 kg (5800 lbs) and in 2016 we donated 2041 kg (4500 lbs) of cans.
The judges evaluated the teams based on a number of criteria including use of colour and shape of the structure.
The winning team was Kevin Bacon & Eggs – Six Degrees of Canstruction with a mouth-watering can-structure of, well, you guessed it, bacon and eggs in a frying pan! There were also two honorable mentions: Team Pacan (Can-structure: The Scream) and Bad News Beers (Can-structure: London Bridge).
Use the links below to share this article on LinkedIn, Twitter, Facebook, or via email.