September 28, 2018
Another year of Calgary Corporate Challenge (CCC) is complete. And, for the second year in a row, we have a medal to show for it.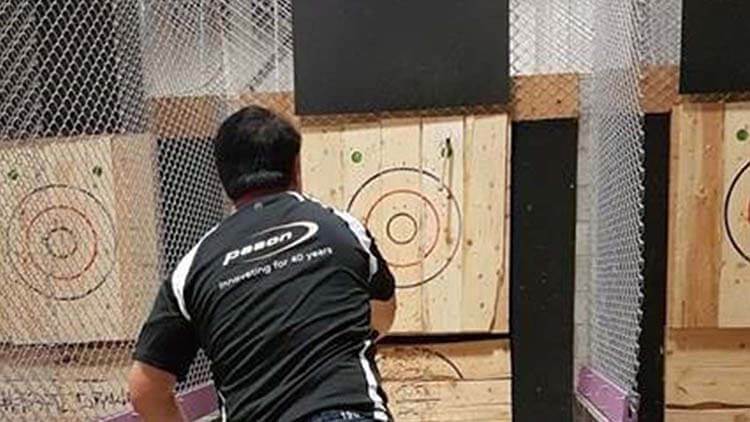 With a final score of 107 points, Pason placed third in the White division, just behind Computer Modeling Group Ltd. (second place, with 124 points) and Murphy Oil Ltd. (first place, with 138 points).
Way to go, Pasonites!
"This year we really excelled at laser tag and foosball," says Colin, Pason's CCC committee organizer and participant. "In fact, we've received gold in both these sports for the last few years."
Pason also medaled in cribbage, amazing race, and one of CCC's newest additions: axe throwing.
"Axe throwing was a really interesting event to add this year," says Colin. "The sport has been increasing in popularity over the last few years, and adding these sorts of newly popular events help introduce people to the sport."
Not only do some of the sports change each year, but so does the CCC theme.
This year, it was "Our Year, Your Podium" to mark the 30-year anniversary of the Calgary 1988 Winter Olympics.
For the last couple of years, Pason's CCC committee has opened a design competition encouraging all employees to submit their t-shirt designs. The committee then votes for the design they like the most. This year's t-shirt design displays Calgary's skylines at specific times: Pason's beginning (1978), Calgary Winter Olympics (1988), and now (2018).
Ultimately, the CCC is about having fun and being active with co-workers and competitors outside the office.
"I think the CCC is a great match for the culture of Pason," says Colin. "We're physically active, and we have a great sense of community. I think there are a lot of people with a competitive streak when it comes to these events, which is great to see!"
Over 80 Pasonites registered for CCC events this year. Many Pasonites participated in two or more events.
Use the links below to share this article on LinkedIn, Twitter, Facebook, or via email.