March 12, 2020
2020 is full of new beginnings, and for Pason Canada, it was time to rock a Canstruction Challenge for the world to see.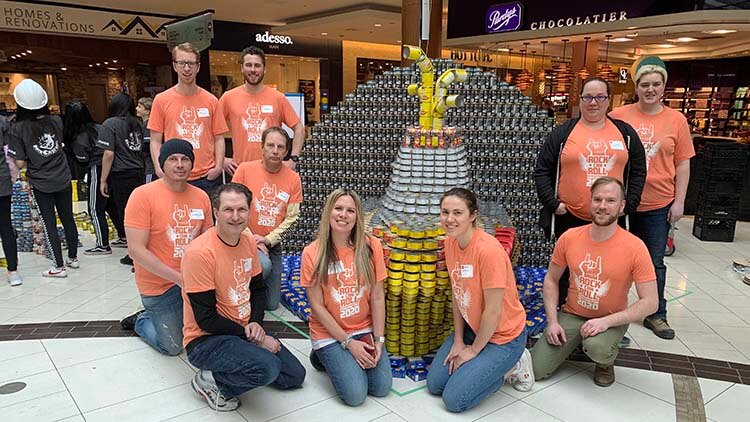 That's right! After three years of in-office Canstruction competitions, our volunteers took their act on the road and competed in the Rock CAN Roll-themed challenge at Calgary's Southcentre Mall to benefit Calgary's Food Bank on March 12, 2020.
Pason was able to fundraise over $8,300, and more than 3,440 cans — including 1,300 yellow tuna cans and 1,400 black chili cans — were used during the event. In this year's competition, teams from several Calgary companies volunteered to assemble structures of canned goods that rock the crowd.
Our team took inspiration from The Beatles and can-structed "The Emergence of the Yellow Submarine" — the famous yellow submarine from The Beatles' 1969 album, emerging from the record itself.
"Once submerged in a pit of molten vinyl, the "Yellow Submarine" emerged onto the rock scene the moment the grooves were pressed into the shiny black plastic. Our structure reflects this very moment," is how Michael, Software Developer and Canstruction volunteer, described the structure for the event.
Although the team is chock full of can-structing talent, for reasons that include safety, only five people were allowed in the "build square" at one time, swapping throughout the day with others on standby who helped prepare cans while waiting their turn.
Awards were given on the following categories: Best Meal, Best Use of Labels, Structural Ingenuity, Best Original Design, People's Choice, and Juror's Choice.
Ron, AX Support Analyst and team captain, noted, "There is also a Calgary-only award, Best Use of Theme, and winners go on to compete internationally through photography to a panel of jurors at the SDA/AIA National Convention in 2020."
The competition was extremely tight and difficult for the judges. Although awards were not given to Pason, the team's talent and dedication meant smooth sailing for the big show.
"It only took two team meetings to plan out what to build and how to go about it," Ron said. "That even includes the process to determine who was going to do what."
The planning work took just over 40 hours, Ron said. Most of the prep time was used modelling the structure, using SolidWorks, a solid modelling computer-aided design and engineering program, according to Mechanical Hardware Intern Natasha.
Ron said every team member has a unique talent to bring to the stage.
"Our many varied skills set, and abilities set us apart," he said. "We also have many hands to help deal with all the details and problem solving, and that makes the difference."
All in all, taking part in a fun activity with coworkers, while participating in a good cause is something Ron feels fortunate to be able to do.
"I think it's important to be involved because sometimes life gets hard, where the only luck is bad, and lifelines are available because people like us help," he said. "What better way to be a contributor than to work with outstanding participants where creativity, ingenuity, cooperation, and teamwork come together in a fun way."
The Canstruction team thanks Pason's business partners who donated money to support this great event: August Electronics, Business Computing Solutions, Elite Machining, and Teledyne Cable Solutions.
Pason's can-structure will be on display at Southcentre Mall until March 20, 2020.
Use the links below to share this article on LinkedIn, Twitter, Facebook, or via email.