March 9, 2020
Sunday, March 8, 2020, marked a day to celebrate all women across the globe, with events in Calgary ranging from talks and conferences to galas. But the following day, women were celebrated the Pason way.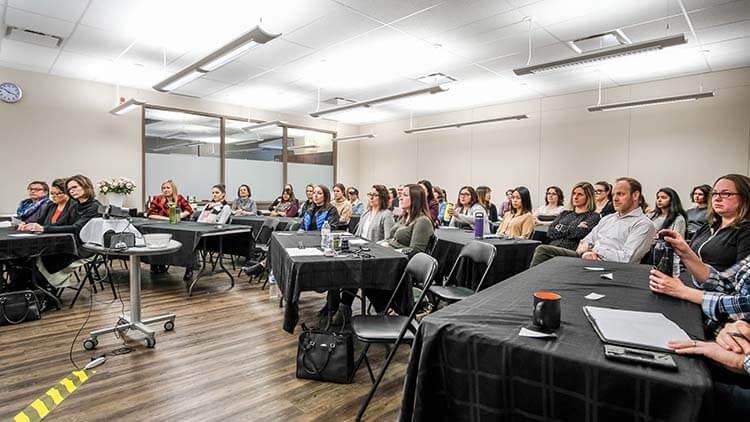 On March 9, 2020, women from Pason, Verdazo, and Energy Toolbase were invited to celebrate International Women's Day. The event included activities, speakers, food and fun.
Celebrating International Women's Day at Pason began in 2018. The event was championed by former Pasonite and now President of Verdazo Analytics, Fiona Mueller-Thode. Fiona, who has worked with organizations like Calgary Women's Shelter, Calgary Women in Energy, and Moms in Energy, was recognized at the event for her role in bringing the annual celebration to Pason.
"I went out on a limb and organized the first event like the ones I had participated in with external groups, in part to test the waters to see if anyone else would be interested," Fiona recalled.
Fiona said this type of event reinforces the importance of supporting one another.
"International Women's Day is one of the tools out there to create awareness of the importance of that kind of support."
Amira, Manager, Rig Site Systems Testing and organizer of this year's event, said presentations were all from "everyday women," who shared their stories about success, leadership, parenting and overcoming obstacles.
Senior leaders from all departments attended the Women's Day celebration, including CEO Marcel Kessler.
Amira said, "Senior leaders are strong supporters of the strength, potential and growth of women in the workplace, but there are still areas where progressive action needs to be taken for accelerated gender equality."
Rob, Interim HR Director, explained that having a diverse workplace, with both men and women, is important at Pason.
"If everyone is the same and has the same value and the same opinion, nothing really changes, nothing groundbreaking ever comes through," he said.
He added he truly values the opinions of his female colleagues.
"Different views are a way to keep everyone accountable."
Use the links below to share this article on LinkedIn, Twitter, Facebook, or via email.