March 30, 2020
Stunning natural surroundings, good company, and good food. These aren't words you'd typically use to describe a meeting. But for Pason USA, that's what the 2020 Field Sales Technician (FST) Meetings were.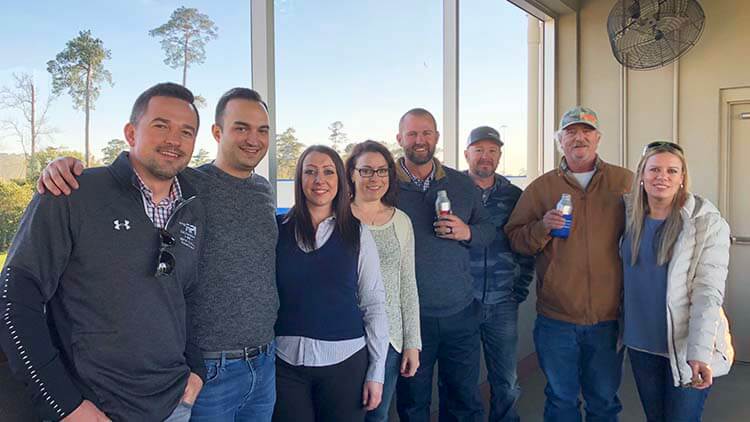 In Houston, three weeklong meetings, consisting of about 35-45 FST participants, were held within January and February of this year. The entirety of the week was focused on training with some relaxation and laughs sprinkled in.
All three meetings had the same itinerary. The week started off with a meet-and-greet-style welcome reception, where Pasonites were able to enjoy each other's company, relax and catch up.
On Tuesday morning, attendees were given a USBU update, a Support Services presentation, as well as a presentation from Human Resources. Later, each region met and discussed topics such as regional updates, Pason culture, and any questions from FSTs.
Tuesday evening, participating Pasonites enjoyed a private dinner, where milestone anniversaries were celebrated and rig diagnostic awards were distributed. Several stories about Pason "back in the day" filled the night with laughter.
The following day, on Wednesday, safety training was in full swing.
"The field techs had a full day of completing Gas Hazards Training, PEC H2S Clear Training, Ladder Safety Training, and Fall Protection Training," said Sarah, Pason USA HR Specialist.
All that training deserves some time dedicated to fun. Wednesday afternoon attendees had the option to participate in paintball, axe throwing or Topgolf.
"All three activities brought out the true competitive spirit of all Pasonites," Sarah said.
Thursday introduced a new favourite presentation for FSTs, a digital Rig Diagnostics "locked room." The concept is like an escape room, but participants must escape a drilling rig location online.
This was a great tool for FSTs to learn in a "hands-on" environment, according to Aaron, Team Lead, Field Tier 2, who presented along with his team during the weeklong meetings.
"Using this understanding and knowing that FSTs learn hands-on, when the regional managers voted in favour of a virtual 'locked room' concept, we tried to put all the tools that are used in the field to create a fun, new, interactive type of learning."
Aaron said they received tremendous feedback from participating FSTs in Houston.
"We are very happy that the FSTs enjoyed the activity and we look forward to creating more 'locked rooms' to assist in keeping the field engaged and motivated, and help display new features coming out," he added.
Other interactive presentations included Commercialization, Help Desk, and Drilling Automation Team — DAS.
Pasonites are thankful the be able to be part of events like these that offer face time, gained knowledge and camaraderie.
Use the links below to share this article on LinkedIn, Twitter, Facebook, or via email.