April 2, 2019
Pasonites have yet another reason to be proud. We've won our second workplace award for 2019: The Employee Recommended Workplace Award.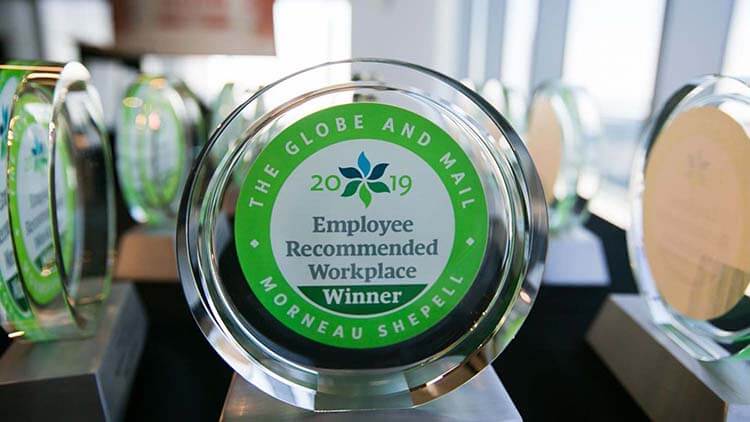 "In August 2018, we sent out a short, confidential workplace survey to all Canadian Pasonites," says Kristin, Pason Canada HR Coordinator. "The survey included questions about employee physical and mental health, as well as aspects of their work and home life. The survey captured all elements of an employee's total health that impact employee engagement and productivity."
The survey was created by our Employee and Family Assistance (EFAP) providers, Morneau-Shepell, who partnered with the Globe and Mail and developed the Employee Recommended Workplace Award three years ago.
The Employee Recommended Workplace Award recognizes excellence in achieving a healthy, engaged, and productive workforce, and is the only award of its kind based entirely on feedback from employees. On completion, all organizations that participated received a summary report that identified areas of strength and areas where more work may be needed to improve the health of their workforce.
"The survey provided us with insight into how we're faring against comparable companies, what Pasonites think we're doing well, and where we need to improve," says Kristin. "Based on survey results, we found that most employees feel respected by their direct manager and feel confident about reporting safety issues or concerns at work. On the other hand,we discovered that Pasonites still need to be more active. This is a good chance to remind Pasonites that we have free lunch hour activities and a Taxable Wellness Account (TWA) to help fund their offsite interests, so please, take advantage!"
Read the article about the Employee Recommended Workplace Award winners in the Globe and Mail.
Use the links below to share this article on LinkedIn, Twitter, Facebook, or via email.