February 21, 2019
We all know Pason's a great company, and now it's been confirmed as our Canadian office has been named one of Alberta's Top 75 Employers!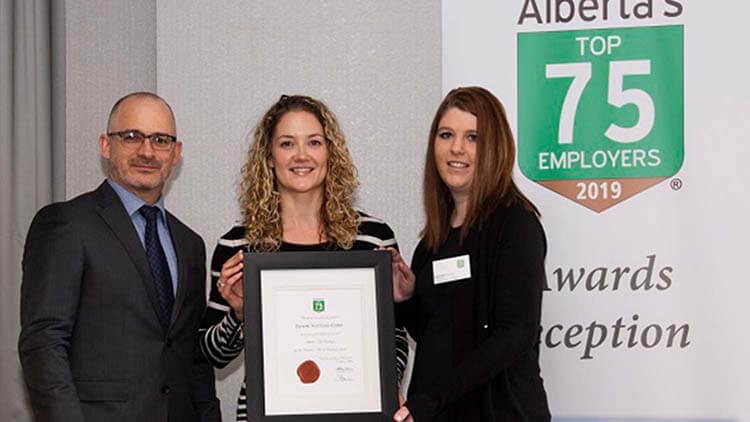 "We're really wanting to build awareness in the Calgary (and surrounding) community that Pason is a great employer and is a wonderful place to work," says Natalie, Pason Canada Interim HR Director. "We believe the award is a credible way to share that message with potential Pasonites."
An annual competition, Alberta's Top 75 Employers recognizes Alberta employers that lead their respective industries in offering exceptional places to work.
Although the competition has been around since 2006, this was Pason's first time applying.
E​mployers who apply for the award are compared to other organizations in their field to determine which one offers the most progressive and forward-thinking programs. Employers are also evaluated on many criteria including: Work & Social Atmosphere Health, Financial & Family Benefits; Vacation & Time Off; Employee Communications; and Community Involvement.
"We're thrilled that Pason is being recognized as a top employer in Alberta!" says Natalie. "It's an affirmation that we're doing things right. Our employees are our single most important asset — they're the drivers of innovation for our company, and we want to ensure we're treating them well."
Alberta's Top 75 Employers Award​ winners were formally announced at an awards ceremony on February 20, 2019. A special magazine announcing the winners was placed in the Calgary Herald and Edmonton Journal newspapers and online.
Use the links below to share this article on LinkedIn, Twitter, Facebook, or via email.