April 7, 2021
Supporting gender diversity in technology is vital, not just for our business but for our industry. At Pason, we support and encourage women in technology to succeed.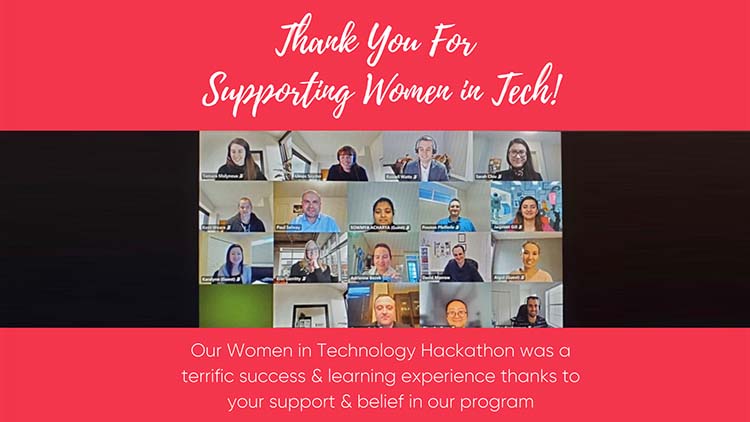 Two of our Pasonites recently participated in the Women in Technology Hackathon as judges!
This event was held earlier this year, and we wanted to give these Pasonites a shoutout, not only for volunteering their time as judges but for supporting women in tech!
Tony, Software Architect, and Tom, Principal Software Engineer, say nothing but good things about the hackathon. The virtual event was held by Making Changes Association, a group committed to creating an environment of inclusion, welcoming those who identify as women regardless of age, race/ethnicity, religion, gender identity, sexual orientation or physical ability.
Making Changes' Women in Technology program focuses specifically on building skills for immigrant and Indigenous women in the information and technology sector.
"Participating as a judge, for me, seemed like a good way to support and be an ally; this was an event where these women were the focus, and my role was to listen and appreciate what they offer as developers," Tom said.
Both Tom and Tony said they would absolutely volunteer their time as judges for this event in the future.
"I personally believe in the value of education, and supporting activities that provide educational opportunities is important to me," Tony said.
At the event, participants applied their problem-solving/technical skills and creativity to present technical solutions to a specific business workflow. The "real world" business case was designed by Alta Gas.
"Five teams consisting of three developers presented their solution, which was an application built in Microsoft Power Apps," Tom said. "After demoing their application, each team was questioned by the judges. I really saw these developers step up and meet this challenge."
Tony added, "This particular event was challenging in a few ways: participants were new to the technology, they were given a somewhat open-ended problem, and they had to synthesize a complete solution from UI to data integration. Also, much of the event took place over the weekend where there are competing demands of family and life."
Tony said he enjoyed the range of solutions that were presented. "Provided with the same basic problem, the teams had noticeably different overall designs and placed emphasis on different aspects of the problem," he said.
Tony and Tom were both happy to support events like the Women in Technology Hackathon. Tom said he feels he has a personal interest in continuing change because of his daughter.
"Statistically, women are under-represented in tech," Tom said. "I think we should all be concerned with this if we want to hire and work with the best talent. There is also an element of supporting those who have had a 'steeper hill to climb.'"
Great to see our Pasonites volunteering their time and getting involved!
Use the links below to share this article on LinkedIn, Twitter, Facebook, or via email.