September 28, 2022
It's been a busy couple of weeks here at Pason, as our organization recently competed in the Calgary Corporate Challenge! We did pretty well, placing 15th in the Red Division!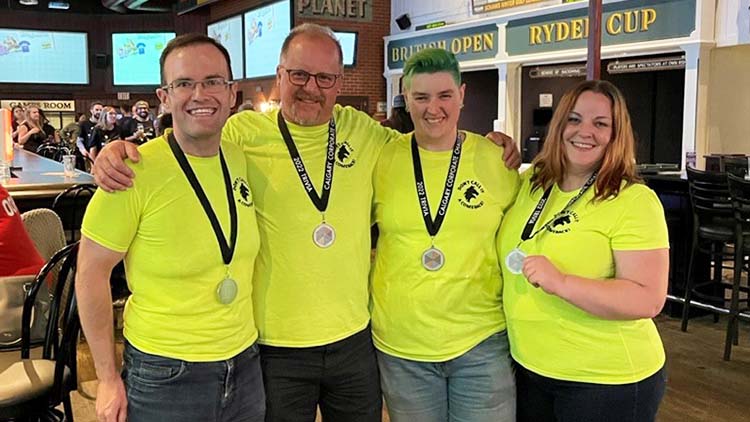 Calgary Corporate Challenge (CCC) is a non-profit organization focused on community.
According to the organization's website, "It's our mission to provide Calgary & area companies with professionally-managed team-building events. We emphasize fun, promote philanthropy, and encourage participation, inclusion, health & fitness, cross-industry networking, and positive teamwork."
The theme this year was Don't Call it a Comeback and our Pasonites competed in several events throughout the challenge, like bocce ball, laser tag, volleyball and mini golf.
We love participating in these events. Being able to experience the camaraderie and spending time with our fellow coworkers is enough for us to keep coming back annually. That said, there were a few notable high points from several activities this year!
"Trivia and Soccer have both been highlights this year," said Colin, Pason Software Developer. He has been organizing our involvement in CCC since 2017. "Both are pretty competitive events in their own way, and we captured silver in both!"
We also did fantastic in the Horseshoe competition, narrowly missing a medal! Many employees participated in the Step Challenge as well. Still, our strong showing in the CEO Challenge with nearly all events attended was even more remarkable! This is just a snapshot of the fun we had over the two-week challenge. Many other activities included some great action!
"At each event, there's a good mix of competitiveness and sportsmanship," Colin said. "Winning is nice, but we definitely enjoy having fun."
About 50 Pasonites took part in the challenge this year! And we love it – whether competing in badminton, running or cribbage.
"The CCC allows us to perform on a pretty large stage within the city of Calgary," Colin said. "Most especially, I think people at Pason enjoy spending time with their colleagues outside of work, and the Corporate Challenge provides that opportunity."
Great work to the Pasonites who participated!
Use the links below to share this article on LinkedIn, Twitter, Facebook, or via email.