November 30, 2022
Another United Way Campaign has ended, continuing the tradition of Pasonites stepping up to fundraise for the United Way of Calgary and Area.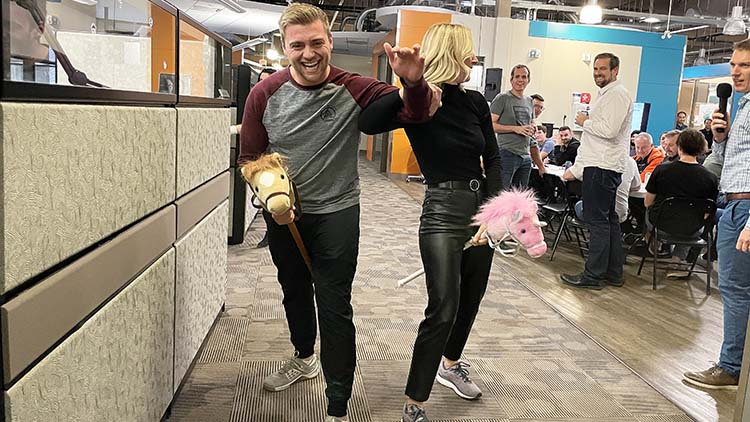 Over the past two years, we've implemented our campaigns virtually, introducing an internal fundraising app where Pasonites can participate in a Silent Auction, sign up for virtual games, and enter a 50/50 draw. This year, however, we were happy to bring back some in-person events, making the 2022 campaign one of our most unique yet! We mixed the best of our virtual campaign with some of our classic in-person events, starting with a Kick-Off Event on Halloween to get the campaign rolling!
"This year's United Way Campaign was such a huge success," said Cindy, Microsoft 365 Administrator, who headed this year's campaign. "It was so exciting to be able to bring back some of our Pason culture with our in-office events as well as continue with the virtual ones too. Pasonites really stepped up their enthusiasm and gave generously for this great cause. I'm so proud to work with such an incredible group of people and I'm really looking forward to this event again next year!"
We raised a total of $30,063 from our events, activities and E-Pledges! In addition, Pason matched the donation up to $10,000. This makes our final fundraising amount $40,063 all going to United Way of Calgary and Area. We went above and beyond our fundraising goal this year! Great work, Pasonites.
Our United Way app was in full force this year, as we used it for event sign-ups, our annual Silent Auction and other activities. Pasonites could also use the app to pledge funds for payroll deductions.
Once again, our Silent Auction was made up of items donated by Pasonites, as well as donations from suppliers.
A few items that topped our bidding included a two-night stay in Canmore, a $200 gift card to Major Tom, and a Stampeders' Fan Pack.
Other donations included cupcakes, a brewery tour, dog treats, handmade crochet items and Vietnamese spring rolls, to name only a few of the fabulous things available. There were too many fantastic donations to name them all!
As we re-introduced some in-person events, our arguably most popular activity was our Mini-Golf! Pason employees took a journey through a Mini-Golf course created by Pasonites! The creativity was unmatched! Stations ranged from glow in the dark to pinball, and even a chance to win a laptop if you got a hole-in-one in our IT department!
The 50/50 draw returned once again! In addition, we also did a Wine Draw! Participants donated a bottle of wine and $20 to be entered to win some great bottles!
A highlight for our month-long campaign was Hobby Horse Races! Yes, you read that right! We competed against our coworkers galloping through the office, and wagered on the races! Although seeing our fellow coworkers gallop around the office was great fun, we also raised some significant cash through bets.
Of course, we couldn't get through another year of United Way without hosting our Guess Who? virtual game! This year, we asked Pasonites to submit photos of their hobbies, and we guessed who's who! The game was challenging, but it was fantastic to learn more about what we do in our pass time. There were a few laughs along the way, and we learned a little more about what United Way does for the community.
This year's campaign was one to remember! Thank you to everyone who participated.
Use the links below to share this article on LinkedIn, Twitter, Facebook, or via email.