March 4, 2020
Nothing goes together like industrial waste and charitable donations, right? At least, at Pason, that statement rings true. Ask Pason Canada's Supply Chain and Warehouse department, because the team has recycled metal for cash, once again, and donated it to local non-profit organizations.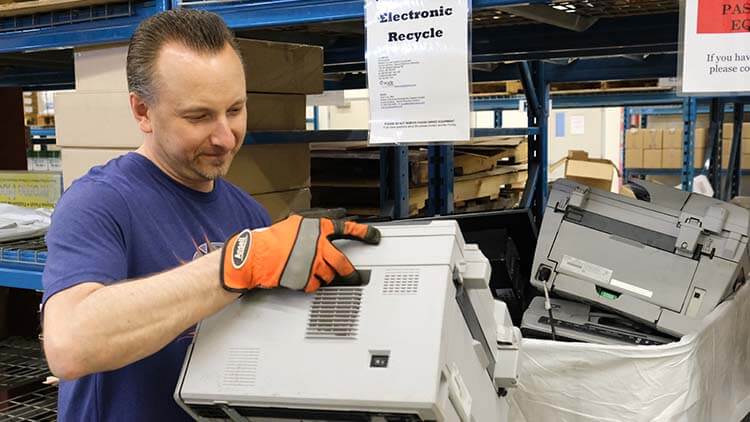 The initiative was first started in 2014. Products like metal, electronics and even personal items from employees are recycled for this good cause.
"In the spirit of Pason culture, along with our desire to give back to our community, we felt that the funds would best be used as donations," said Jenny, Manager, Warehouse & Logistics in Calgary.
Scrap metal and electronics recycling from Pason's product lines are processed through Recon Metal and eCycle Solutions, respectively. The companies take the material then send Pason a cheque, which is then used for the donations.
The three charities receiving donations of $1,735.25 each are:
LEAD Foundation
Canadian Mental Health Association — Calgary Region (CMHA Calgary)
Calgary Aphasia Centre (CAC)
Each charity receiving funds was nominated by a Pasonite at some point over the last six years.
The LEAD Foundation, a non-profit dedicated to enriching the lives of children and families, was originally suggested by a former Pasonite. The company has been donating to the organization since 2014.
"I continued supporting this nomination each year because of how family-focused this local charity was," Jenny added.
LEAD's motto is "Your Child. Your Lead."
Neil, Senior Business Analyst in Calgary, first nominated the Canadian Mental Health Association's Calgary chapter, which operates under the belief that recovery from mental illness and addiction is always possible. Neil has volunteered for CMHA Calgary in the past.
Jenny noted that Diane, Manager of Financial P&A at Pason and board member with CMHA Calgary, has championed nominations year after year.
Pason has also donated to the Calgary Aphasia Centre for another year, which was supported by a Pasonite following his wife's stroke several years earlier. The centre, established in 2014, hosts weekly conversation groups to help develop communication skills for Calgarians living with aphasia.
Donations like these can be a game-changer for smaller organizations, Jenny said. "It truly makes a difference."
Use the links below to share this article on LinkedIn, Twitter, Facebook, or via email.