September 30, 2021
Sept. 30, 2021, is the first annual National Day for Truth and Reconciliation in Canada. Pason honoured the day by wearing orange, providing employees with information and hosting a virtual speaker to educate ourselves on the history behind this day.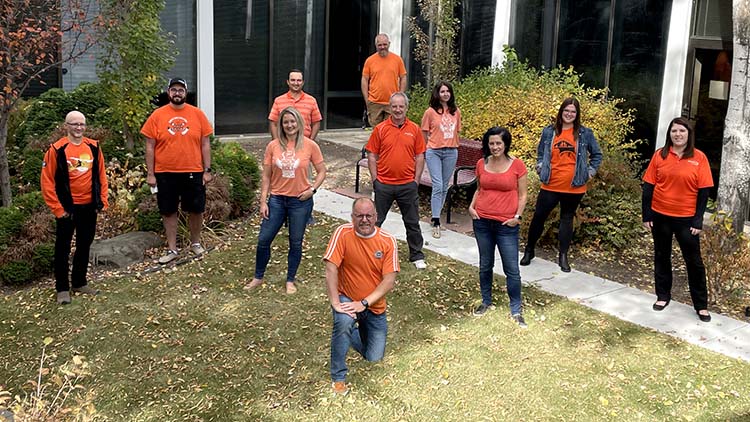 Sept. 30 has also been known as Orange Shirt Day in Canada. The day was established in 2013 in Williams Lake, B.C., inspired by the story of Phyllis Webstad.
Pasonites at our Canadian Head Office, although primarily working from home, sported orange shirts to commemorate the day. Employees who were in the office for operational effectiveness gathered for a physically-distanced photo with their shirts.
Employees were also provided with resources, recommendations of books, news articles, and non-profits where they could learn more about Truth and Reconciliation and the lasting impacts of residential schools.
On Sept. 27, Lana Eagle hosted a virtual talk and spoke about the significance of National Day for Truth and Reconciliation.
Lana is an Indigenous relations strategist and a Social Innovator, advising companies on how to better engage and work with Indigenous communities to find a pathway forward through a Reconciliation framework.
Her talk was titled Understanding the Importance of Indigenous Inclusion and Being a Better Indigenous Ally Today. Lana challenged Pasonites to use Sept. 30 as an opportunity to reflect and better understand Truth and Reconciliation.
"It takes courage to become a trusted, inclusive ally," Lana said during her presentation. "It means that you have to move beyond yourself."
Thank you, Lana, for your moving presentation and speaking to our organization.
Use the links below to share this article on LinkedIn, Twitter, Facebook, or via email.