January 3, 2020
December is the season for giving. This year, Bertrand Groulx, President, Verdazo​, decided to give in a unique way: by busking. Also known as street performing, busking is the act of performing in public places for gratuities such as food, drink, gifts, or money.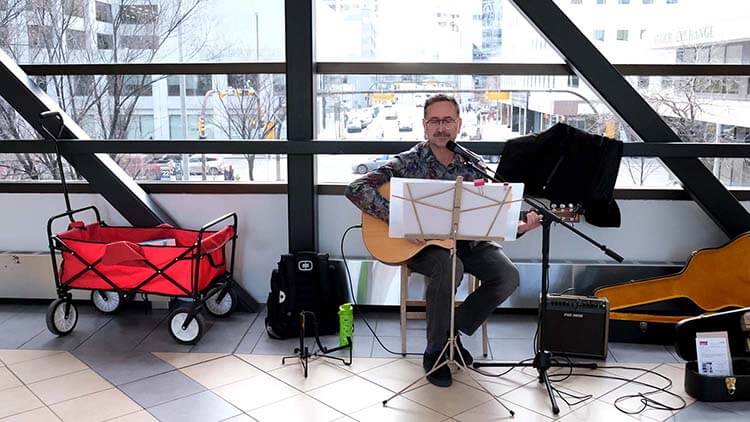 Although Bertrand has played guitar to family and friends for over a decade, he only started playing publicly last year.
"I like challenging myself to perform in public and bringing cheer to people passing by," says Bertrand. After 2018's Buskin' for the Food Bank​, he bought an amp to make it easier on his fingers and voice and is less nervous when performing to strangers.
Bertrand played at five different locations around Calgary's downtown core, raising $5,030, surpassing last years' donations by over $300. This money was donated to the Calgary Food Bank as part of YYC Tech Gives, a group of Calgary-based tech companies who come together to give back to the local community.
"This is the only fundraising effort I participate in," says Bertrand.​ "I've been involved with YYC Tech Gives since its inception in 2010. It's nice to be part of a larger community. The tech sector is full of great people and the networking has been excellent. We generate more charitable contributions working together. It's also nice to make Calgary aware of the rich tech sector we have."
Use the links below to share this article on LinkedIn, Twitter, Facebook, or via email.