August 12, 2019
In late February 2019, a situation was developing in the Permian Basin, a region that covers approximately 222,740 km2 (86,000 mi2) of West Texas and New Mexico, with over 450 active rigs producing about 4 million barrels of oil/day. It's a crucial growth market for Pason.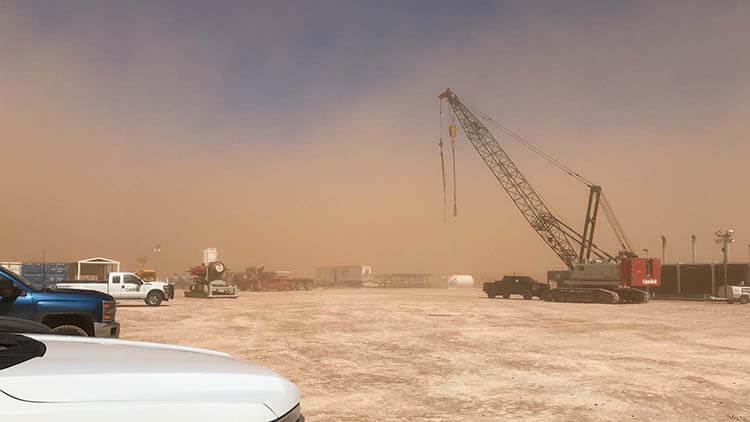 It was a region where many rigs needed to be upgraded to the Enhanced TPC (eTPC) system and Windows 10 — a huge undertaking.
At the same time, to the north, Canada had low rig counts, seasonal slowdown, and experienced staff.
That's why Canadian Field Technician Trent temporarily relocated to Midland, Texas, to act as team lead for the Permian Basin field rotation project. Trent was one of 28 Pasonites who volunteered to help south of the border, most for 14-day rotations out of Midland or Pecos.
The Permian Basin rotation project ran from February until August, and saw 141 eTPCs installed or upgraded, 235 rigs upgraded to Windows 10, 321 calls resolved on location, 822 workstations installed or upgraded, and137,000 km (85,000 mi) travelled.
"It was an unmitigated success," said Trent. In fact, some of the project's early challenges came from being too efficient.
"When we started the eTPC upgrades, one of the initial problems was of our own doing," he said. "We were upgrading faster than anticipated — too fast for the stock, both from Houston and the contract manufactures, to keep up."
Another challenge happened back in Canada, where the techs who remained had to rotate between regions to ensure overall coverage and maintain excellent customer service.
"Though the field techs deployed to the Permian Basin took the burden of upgrading rigs in +41°C (+105°F) heat, the techs in the rest of Canada had the challenge of covering off those areas temporarily void of Pason field techs," said Trent.
Pasonites rose to meet the challenges that presented themselves. Today, the Canadians are back at home, and the workload in the Permian Basin is steady at a more manageable level.
The exchange didn't just have benefits down south. Trent said that working in the Permian gave him "a holistic understanding of Pason and the challenges we overcome on a daily basis," and he thinks this is true for his fellow techs. "I also have a new appreciation and respect for the local team down here," he said.
Trent sent out congratulations to his team.
"Every person who rotated out of here can pat themselves on the back, knowing they were part of this extremely successful initiative and proved that Pason personnel can work as an integrated team, regardless of location."
Use the links below to share this article on LinkedIn, Twitter, Facebook, or via email.