July 16, 2019
​​When Robert came to interview for an electrical hardware internship at Pason Canada almost two years ago, he brought along a temperature-monitoring circuit board he'd designed. It was built for a solar car Rob was working on with the University of Calgary team.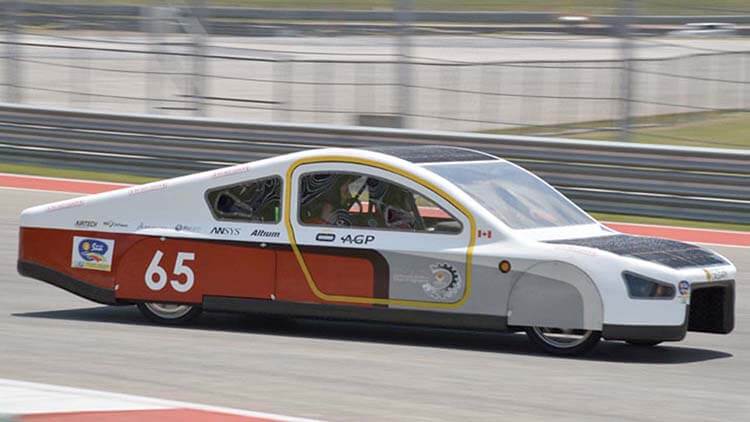 This July, that car came first in the Formula Sun Grand Prix in Austin, Texas.
"It feels amazing," Rob said of the win, a victory he shared with fellow Pason interns Justin and Abdulkareem, who were also on the U of C team, of which Pason was a sponsor.
Rob is the team's engineering lead and team co-captain; in addition to electrical work on the car, he took on a coordination role, setting up meetings and presentations, organizing the team and events, and — after the big win — speaking with the media. (Check out the CBC News article and video​, and an interview on Breakfast Television​.)
Gaining hands-on experience, being a part of a bigger project, and meeting new people were what drew Rob to the competition, along with his interest in sustainable energy in the automotive sector.
The first three days of the Formula Sun competition were scrutineering, where judges evaluated all aspects of each car and its design. Rob's team came first for mechanical systems design, charging systems design, and aesthetics.
Then came three days of racing, held on the same track that's used for the Formula One US Grand Prix. Teams earn points for each lap they complete in 24 hours of driving, but lose points for dropping below a speed threshold or having to stop and charge the car.
When all the points from the race and the scrutineering were tallied, the U of C team was awarded first place in the multi-occupant vehicle category, the team's first win since they started competing in 2004.
The team will enter the same car into the competition next year, improving it based on what they've learned and to keep up with changing race rules. "For example, next year we need a to install a system for the event officials to monitor exactly how much power we have put into the car​," said Rob.
Next year's competition also includes a two-week road race, and the team is planning to drive the car around Alberta as a test run next spring.
Rob's internship at Pason finishes this August and he'll be back to university full time in the fall. He'll continue working with his team on the solar car, though, since he graduates next spring and isn't yet sure where he'll be working, he may not make it to the next competition.
"We'll see," he said. "Fingers crossed."
Whether he's there in body or just in spirit, Rob said, "I'm looking forward to maintaining the title."
Use the links below to share this article on LinkedIn, Twitter, Facebook, or via email.