August 14, 2023
Pristine Parks is back!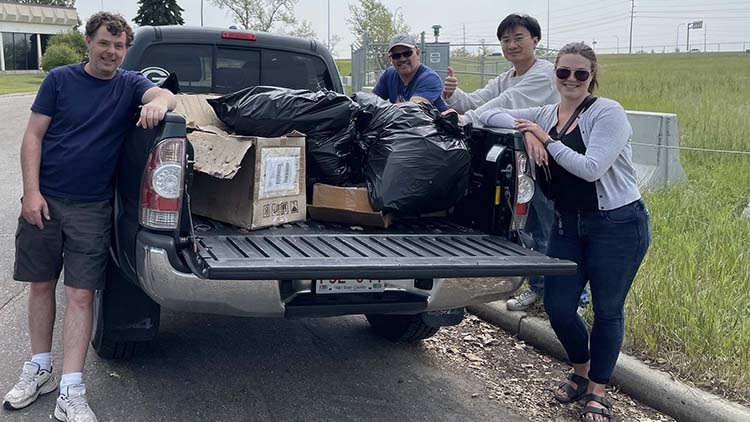 Another summer of parks cleanups is in the works for Pasonites looking to volunteer to clean up public spaces in and around Calgary.
Pristine Parks was initially introduced in 2021 and organized by Eric, Facilities Support, who noticed that in the summertime, litter can pile up at local parks, outweighing the natural beauty of the outdoors. This initiative is an excellent way for Pasonites to get outside, connect with their coworkers and clean up our city while doing it!
To kick things off, a few employees gathered on July 20, 2023, to pick up trash in our office's surrounding area.
As employees cleaned up the area, several passersby stopped to ask and thank Pasonites for stepping up and tidying the area. But don't just take our word for it! Here's what some of our employees had to say about the cleanup!
Michael, Software Developer Intern:
"It was a great experience for me because I was able to have conversations with people I have never met before. To me, building up connections while helping to clean the area has been a great pleasure."
Doug, Graphic Designer:
"It is nice to take care of your home/community/city. I felt a bit of pride after we cleaned up the surrounding area around Pason and will take part in any future Pristine Park events."
Kelci, Communication Coordinator:
"This was my first time participating in the Pristine Parks initiative. What was especially awesome was connecting with Pasonites that I don't normally see daily."
Ian, Senior Software Developer
"Participating in the local park cleanup with my company was an absolute blast. Not only did I have fun working on a group activity with my fellow Pasonites, but it was also incredibly fulfilling to give back to the community and witness the park transform into a cleaner and greener environment. The personal satisfaction I felt from contributing to such a meaningful cause left me feeling proud of our team's efforts."
Stay tuned for more cleanups planned in the future!
Use the links below to share this article on LinkedIn, Twitter, Facebook, or via email.